Post by Reizan Seishuku on Nov 15, 2012 19:35:35 GMT -5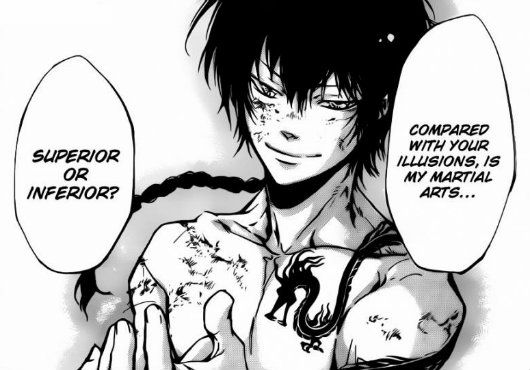 REIZAN --- SEISHUKU
NAME: Reizan Seishuku

ALIAS: ---

GENDER: Male

BIRTHDATE: May 25th

AGE: 19

HEIGHT: 5 ft 8 in

WEIGHT: 138 lb.

OTHER: N/A

SEXUAL ORIENTATION: Heterosexual

NINJA RANK: Special Jounin

OCCUPATION: Head Fighter

VILLAGE / AFFILIATION: Grass Village



PERSONALITY:


An often highly serious character with a strong brand of justice to boot, Seishuku has much bravery and courage rolling throughout his being and acts as though a person of justice holding high ideals for his ability to fight and often being the first one to place his life on the line for comrades. He is someone who takes many things seriously and doesn't joke around when it comes to lives or the destruction of innocents in a predicament of battle. He is also usually seen with a scowl on his face.

Due to his character, he is a firm yet fair individual often taking the path of allowing opponents who are earnest and have showed great convictions in fighting or situations to live if he defeats them in mortal combat. However, he doesn't have any fear in killing those who only understand wickedness and shall not hold his own convictions back in defeating them. He has an amazing sense of understanding of what is happening around him and is someone who usually has common sense towards many things. He is also not one to accept prize or gain from those he protects and only accepts the amount of gain that was considered during the main mission or establishment of terms.

Although highly serious, Reizan can be seen smiling and laughing when he is with his family, friends or companions changing to a happy if a bit cautious individual when around them. He often is considered a person of philosophy and speaks in terms that seem to outmatch his own age due to his upbringing. He is not afraid to tell jokes (even if he knows he's not good at them) and wishes the best for his friends. As such he shall do what he can for colleagues that have earned his friendship. He is also often a source of interest towards those who seek his advice as once more he is wise beyond his years. He is also incredibly stoic and usually wishes to be alone in order to train or meditate.

He shows a great deal of care and concern for his friends. When he sees that they are hurt he shows a deep-seated agitation towards whatever or whoever did such a deed. He is also someone that will do anything for his friends if he is close enough to them showing a great deal of unselfish gestures. However, he does not hold back against his friends if he trains or spars against them though he will not use lethality on them, he will use his physical prowess to confront them with great strength.

He is incredibly patient thanks to the spiritual skills taught while he was young through meditation and training. However, when angered he becomes much more boisterous against things that he sees as intolerable as wasting lives and killing friends or allies for no rhyme or reason or those who show high degrees of dishonesty with no guilt. He takes defeat seriously and win or lose if he survives an exchange he takes it to heart and tries to follow an answer towards why he lost and how to accept it.

Thanks to how he grew up, Reizan has the ability to understand the emotions of animals though not outright talk to them. He is capable of understanding what they are trying to say by what they do and is often seen accompanied by a plethora of woodland creatures where he trains as animals aren't usually afraid of him. Whether they are feral or docile he can understand what they are telling him through their emotions in which he can use to his advantage. Due to his aspect he also hates pollution or destruction of homes of cherishes creatures and will fight for them if he sees they are being hurt.

When it comes to women, he can be quite tongue-tied often trying to hide embarrassment from them as he hasn't had to deal with many girls other than his mother while training. As a result his personality changes from that of seriousness to that of incredibly awkward. Women that become his friends however, that he can talk naturally to are warranted with a softer, friendlier side as well. He takes pride to never hit or yell at women and to keep his calm despite them yelling at him as "more loud voices only cause more noise". He treats all women with a certain degree of respect whether they want him to or not, even if enemies.

He can also be quite charitable, and doesn't mind helping those who ask for his help if their intentions are pure. If he sees that someone who is working is trying to perfect their skills or to do an arduous task he often asks to help, especially if said person is an elder. He respects those who are both above and below him in rank and often uses honorifics to address them and towards elders maintains a certain degree of respect towards all elders good or evil.

He does not fear the aspect of his imminent death in combat as it is with respect that constant battle means winners and losers and that a great deal of luck lies within such details. He always fights with his fullest degree of strength and remembers the words of his father in that "even the tiniest ant can become the strongest predator when pressed in combat" which has rang true in past battles since his early days as a combatant. He trains his body excruciatingly, knowing that to surpass his own limits the most dangerous aspects of training should be placing ones life on the line.

In most cases, although Reizan can sometimes be intimidating to people like his peers or those he meets he's actually quite soft spoken and quiet even during battles and is also an analytical individual thinking of how effective something may be or judging strengths and weaknesses, this is the same for socialization as well in which he chooses not to speak to learn more or to find context clues. He likes to do things such as watch clouds, swim, or practice flowing movements (similar to those of tai chi) which allow him to connect with his surroundings in a way that allows him to tune everything else out. needless to say, he is an outdoors person and is quite athletic.

Reizan shows a great deal of enjoyment in battle, especially when he finds it interesting in challenges of skill. He is always up for sparring and seeing how strong he himself and his sparring partners are or have become. He takes great pride in his martial skills, and is someone who will not allow people to talk about his pride without countering and combating them because of their own folly.



LIKES:


Training
Serene Atmosphere
Invigorating & Honest Martial Combat
Vegetables & Fruit
His Family & Close Friends




DISLIKES:


Pollution
Loud & Nerve-racking Places
Dishonesty in a Fair Battle or Situation
Needless Destruction
Genjutsu




STRENGTHS:


Martial Prowess - Reizan is incredibly skilled as both a hand-to-hand and bo-staff martial artist. He has advanced extreme speed and agility allowing him to employ a vast number of fast and high speed attacks through agility and reflexes in combat, his attacks can create residual effects as well and he can land several attacks on a weak opponent before they notice what has happened. His palm skills were learned from his father who has mastered his soft palm skills to such a degree he can lift water from a pool. He has sufficient strength to wield a bo-staff and has no fear against opponent with weapons even while weaponless.

Chakra Control & Combat - Reizan through learning of the ways of his own village from his father has effectively learned how to utilize chakra in order to enhance his combative skill and strength to greater levels. He does not use chakra for ninjutsu other than the ninjutsu of the basic skills of a ninja, he does however use it for close combat in order to enhance his speed, the force of his strikes, and the agility he manipulates through combat. Though seemingly basic for ninja, he has enhanced it to such a level that he is ALMOST on par with a Hyuuga (though he can't release chakra from every pore of his body, nor can he close or open tenketsu at his leisure).

Martial Genius - He is an incredibly intellectual and perceptive individual thanks to learning from his father. His fighting styles are one part physical, one part spiritual and one part mental. At any rate he is smart enough to make-up strategies on the spot, understand the different ebbs and flow of situations.



WEAKNESSES:


Long Range - He isn't effective in long-range combat because he obviously focuses on taijutsu or close range combat. Due to this he isn't made for close or mid-range combat (without his bo-staff) and thus doesn't focus on such areas preferring to understand the many ways to enhance his close range to quickly capture long-range opponents.

Genjutsu Combat - Due to his chakra control he is effective at disabling many genjutsu, until they become higher levels. Of which it takes more understanding and studying than what he usually does. Thus this manner of skill is both not his forte and is his weakness as a master of genjutsu could use what they understand about genjutsu to lock him in layers of genjutsu, use more powerful genjutsu to make him unable to escape with grievous wounds to himself (such as enough pain to unlock ones self from genjutsu).

Ninjutsu Combat - He doesn't use ninjutsu except for the most basic ninjutsu skills. He focuses on taijutsu and utilizing his incredible control over chakra to enhance his physical combat skills. Due to this he doesn't have effective ninjutsu skills.



GOALS IN LIFE:


Become a masterful combatant.
Learn the secrets of life.
Become as skilled as his father.



WEAPONS:


He has no set weapon that he calls his own, however, he does use a wooden staff which he brings along with him (the staff is wooden because chakra can be used to harden it to steel-like levels) thus he can bring it with him anywhere and everywhere he goes. Due to the weapon being made of wooden, Reizan can carve one out or utilize his chakra to smooth the wood of a piece of limber. Thus, it is the easiest weapon to produce and holds no true sentimental value.



FIGHTING STYLE:

"Train everyday, never stop..." -- "Show bravery and be rational in judgment." -- "Know your own limitations, do not show strength carelessly" -- "Acting without hesitation, without regret doing what is right." - "The Four Virtues of Martial Arts"



Reizan is deep-seated in using "softness" as opposed to "aggression" in combat. Reizan has learned various martial arts styles and techniques in order to employ techniques that attack with usage of the palms and attacking with an overall speedy and effective pattern in close combative range. One of the greatest sources of power in combat for him are his technical skill and advanced reflexes and movement speeds. In this effort, he can either counter attack an opponent by generating force through movements or attack an opponent by counteraction which he relies on more unless an opponent is strong enough for him to take seriously. He is a person that goes "by the book" in battle and fights with his families set style of martial arts.

He has mastered the art of the bo-staff and is capable of many tricks and acrobatic feats with said weapons, thanks to the factors of a bo-staff being one of the most useful weapons in the world, he uses no such thing as "techniques" towards it and thus uses a creative style of bo-staff with hand-to-hand combat. With his chakra energy, he has the ability to harden a wooden staff into a steel-like rod capable of taking on bladed weapons even with chakra reinforcement connected with them, making it that much more useful.

Finally, Reizan has the ability to use chakra greater than taijutsu experts normally should be able to. This is due to strict training in both martial combat and chakra control training, from his old village comes a skill called "chakra breathing" which is using chakra in order to breath it through the body and circulate it much as oxygen and blood through the body. He can also "stand" on his fingertips by way of chakra reinforcing as well, in which case he practices walking everyday on his fingertips through chakra control. Much harsher trainings like balancing on pillars and needles are also done to keep his control high.

Finally, Reizan is an intelligent person, and highly resourceful and understanding of different scenarios and situations. Though, he isn't a master of strategy, he is a competent thinker and shows this in battle by understanding the different notions of battle, emotions, and scenarios. On this end, he is no fool.



CHAKRA NATURE:


TECHNIQUES:



S
A
B
Palm Wave - Hirate Nami
Phantom Massacre - Genei Zansatsu
Shocking Strike - Shokkingu Atemi
Force Palm - Rikikan Hirate
Phantom Step; The Second Movement - Genei Hobu; Daini Gakushou
Pressure Step - Atsu Hobu
C
Lunging Palm - Tsukkakaru Hirate
Phantom Dance - Genei Odori
Body Waxing - Hadami Roubiki
Phantom Step - Genei Hobu
D
Revolve - Mawaru
E
Light Step Skill - Migarui Hobu
Ki Nobori no Shugyō - Wall/Tree Climbing
Suimen Hokō no Gyō - Water Surface Walking
Nawanuke no Jutsu - Rope Escape Technique
Kakuremino no Jutsu - Cloak of Invisibility Technique
Bunshin no Jutsu - Clone Technique
Henge no Jutsu - Transformation Technique
Kawarimi no Jutsu - Body Replacement Technique
Kai - Dissipation



PARENTS:


Engetsu Seishuku -- Father
Fuyubi Seisuku -- Mother



SIBLINGS:


LOVE INTEREST:


CHILDREN:


HISTORY:


A young combatant from a secluded village that practiced various martial arts that were seemingly more advanced than most known martial arts using them to adopt a "system" or code for a "Way of Life". Many secluded villages and untapped places are around the "Continent of Shinobi" and thus are known to hold the secrets to this designation of combat and everyday living. In coherence with this, Reizan was taught martial arts at a young age.

His father who always tried to understand and comprehend the ways of ninja decided to his family that they should move into one of the Hidden Villages conducting a way of life survey over their lifetimes (using Reizan as his main convoy towards understanding so to speak). The closest of the villages of shinobi was the Grass Villages, which they decided to maneuver towards and would eventually settle.

Due to them being nomadic Reizan, his father and mother were interrogated and studied for the first week of asking to enter the village in which after proving that the tests were pure and honest towards goals, were lead into the village in order to become residents. Reizan had entered into the Ninja Academy to adjust to becoming a ninja.

After a year of staying in the village and trying to understand its ways, Reizan was invited to try out the Ninja Academy which would be a great place to understand and get to know the cultures of various shinobi's. Because of his age, he was however somewhat behind his peers. Though he proved to get along with most guys all the same due to his quiet nature and shy approach to situations. He did however have his share of bullies who had disliked him for being a magnet towards the opposite sex (embarrassment ensued) though showed the ability to easily defeat the kids in battle through his use of martial skills and high reflexes for his age. He was never bothered again after such skills showed.

Usually after he came from school he didn't have many outside friends as he usually either trained or explored the village. It was basically a place where he'd be silent to himself thinking of all the different things that could be done. He loved to watch or play with the animals when he could, though one day some of his classmates earnestly wanted to be more friendly towards him and thus followed him to his secret path. Due to his agility this was no easy task. When they found him playing with animals, he would show some anger towards them following him, yet after they explained themselves he'd make it so the animals would let them play with them as well much to the surprise of his friends.

He had grown from four years of training in the shinobi academy, where he'd learn to grasp the basic techniques every shinobi should understand. After learning and mastering these techniques he'd become a rookie genin. Enlisted on a team, he'd soon begin advanced training from his father for such a feat. Due to already knowing what "chakra" was, his father showed much proficiency in how he grasped the concepts of shinobi and used advanced technical skills to reinforce his own style of battle. He would begin to teach these same skills to his son such as the "Iron Forged Needle Style".

When he met his team they didn't really get along well due to a certain persons callous nature towards themselves and their peers in order to gain some sort of fame. He didn't show much of a liking because of a certain someones self-destructive behavior and thus was usually quiet or very cautious around his teammates. Due to his age and his qualities of being an understanding and courageous person he was however seen as his teams De-Facto Leader when their sensei wasn't around though he didn't wish to be and it caused problems with that certain someone as well.

After many missions and team practices, although he still didn't like his team he fought to protect and defend them through his duty to protect those who needed his help as he understood that teamwork was always important and that callous squabbles could destroy them all if they did not work together which he needed to tell them during a mission of utmost importance on the aspect of teamwork. This is when the team started to get their acts together.

After a year of training and practicing skills (during such a year he'd gained the knowledge of sword techniques and started to carry around a bo-staff). They would have the chunin exams to test their own abilities as a team and as individuals. It was a harsh showing of death and despair that much of the demises would even come from members of the same villages to attack against them. A sort of patriarchal understanding should of set by those teams, yet it was more hellish. It angered Reizan by a great deal. So much that he even saved a team from being killed by another team. This would earn his team the prize of the challenge they were in.

In the singles tournament. Along with a certain "Hyuuga", Reizan was known as one of the more proficient close combat fighters in battle and defeated his opposition easily with his wits, agility and new skills at bo-jutsu. Yet he felt something was missing during the battle, although he had such intense skills he knew that he needed a skill that would allow him to gain an advantage in battle towards an opponents skill at battle. Thus at the end of the tournament he had begun to understand the methods of battle and decided to create a skill that was all his own.

Through his use of "chakra breathing" a form of meditation which allowed for an incredibly great amount of concentration (similar to the Leaf training for the Rasengan skill except on a larger scale through his body). By doing this he could center himself and harmonize with his chakra to use and ready his body for more advanced skills one of which he was going to teach himself through method-training. And with the understanding of what the Hyuuga had done, he'd began to formulate a skill that would have use similar to the skills shown by the clan itself.

Using chakra to reinforce the skill of the body was a technique that was made while training. Reizan was trying to synchronize his chakra through his body at first much like an Hyuuga would but to no avail. His stamina reserves were placed to the test with the ragged running of his chakra. It was a difficult task for anyone but he trained night and day in order to muster it and make it much stronger. But after two weeks he'd figure out that it was no use and that it was probably through special training a Hyuuga could use the skills they had.

With this he decided to go on a different route in order to function better. Focusing the chakra into one place of his hand in order to energize that palm with chakra in order to meet through a medium. A technique that was similar to a skill his father used to defeat a giant killer bear while he was young. Through this he focused on using it to defeat a stomp and decided to camp in the wilderness of the mountains instead of his normal training for the next two weeks.

Through an extremely variable in situation, he'd end up fighting for his life and after the harsh training, he'd learn a new secret skill. However, he had a single day to get back to the village and fight which would take him at least a day to get back normally because of that he'd decided to instead move towards the stadium of the final battles through running. He'd made a mad dash towards the finals.

Seemingly exhausted, tired and tattered with ripped clothes due to an attack during his run he got there just in time for his next fight. His opponent was still fresh while he was tired which made it that much worse for him in the battle. Thus, he needed to fight against an opponent that had an advantage over him in having a fresh chakra supply and skills. However, he did not care and still decided to fight. The battle had began and it was a fierce one and almost a loss for the young martial artist.

However, his opponent felt sorry for him, and thus decided to go easy on him in battle. Which was a mistake in itself towards him, as he still had plenty of energy to turn the tides of battle. With a few shrewd and skillful maneuvers and the showing of his new skill that he'd created and used as his trump card. With such a skill and battle wounds, he'd won a trip to the next round.

People commented on the destructive power, amazed that someone could use a technique that was so similar to a Hyuuga's own skills. He'd rested for the next battle and be given a pill as he was in the finals to win. Once more a more powerful opponent had came his way, and though he fought profusely he saw their weren't many ways to bypass his attacks as he was a two-sword combatant using a style of powerful attack and defense with deadly combative skills. Reizan however mastered the ability of chakra reinforcement to strengthen his weapon to not be easily pierce by steel blades during his mountain training.

His opponent also used a myriad of ninjutsu to effectively try to keep Reizan off balance. However, with the skills he'd learned and mastered and with every ounce of his will, he'd turned the tides after being blocked through a large tree in which he was "scissored" his opponent was looking to take his head off. With his bo-staff he used it to block the kill, but was kicked in the stomach.

His stamina seemed to be at its lowest until he remembered to trust in his training and fight with a vigorous spirit. With the last of his movements he'd move to attack his opponent with an elbow attack, which led to him leading off his opponents strike and blasting him with his newest technique through his elbow while he was trying to slash at him. A true to life luck of the draw which he won. Thus he would hone his skills and try to perfect his skills and would also become so in-tuned with it that he'd make variations that allowed for maneuvering through obstacles.

As years had passed, due to the exceptional skills of Seishuku, he'd become a special jounin at the age of eighteen meaning he'd be quite capable of teaching other students in combative skills. He would take pride as a teacher but would not forget his training as he continuously grew stronger.

The Bingo book says their name is Blazflama. I have been fighting for 20 years and taking
part on missions for 8 years.

How did you find My Pride is a Hurricane?: TEXT