Post by KURUGI NANAMI on Nov 5, 2012 21:20:08 GMT -5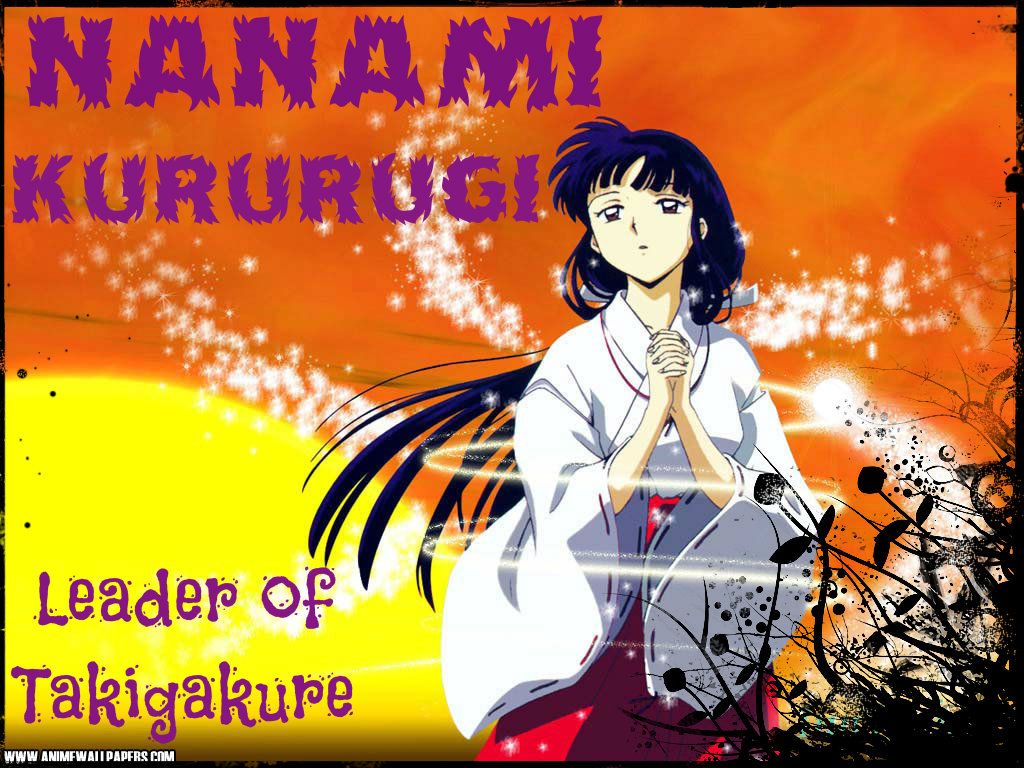 NANAMI KOISA KURUGI
NAME: Nanami Koisa Kurugi

ALIAS: Takikage - Waterfall Shadow

GENDER: Female

BIRTHDATE: July 15th

AGE: 30

HEIGHT: 5'9

WEIGHT: 120 lbs

OTHER: Has a deep and nasty scar down her back from protecting the village just before she became the leader of Takigakure

SEXUAL ORIENTATION: Heterosexual

NINJA RANK: Leader of Takigakure

OCCUPATION: Village Leader

VILLAGE / AFFILIATION:Takigakure



PERSONALITY:




Nanami has a new sense of responsibility and determination since becoming Takikage. She has learned to be a successful leader one must be willing to sacrifice themselves for the sake of the village. If you aren't ready to lay your life on the line you will be known as a failed leader. She has a new view on life now knowing that people trust her to protect them until her last breath. Determined and with a clear mind she is ready to do her job as Takikage.

She is a woman with great pride in herself, others, and the village trusting her with their lives. Never will she allow the Waterfall Village to get invaded and if it does then she will be there to kill without a second thought. This new found leadership has taught her that she needs to keep her priorities straight. A woman with great faith in her and others abilities now she knows the meaning of defending something precious to her.

Nanami is a tough woman that has the hard exterior of a leader but the exterior of a protector. She is a woman with a nack for diplomatic abilities that can work out any deal or meeting and make that go smoothly. She consider herself a lover not a fighter and just want the shinobi nations to find a mutual agreement of peace. Being Takikage has put a huge weight of responsibility on her shoulders but nothing that she can't handle.

If she is force into a fighting situations she is more of a strategist than a head on kunoichi. She will scan the battlefield and map out the best course of action then employ that actions. She has a thing for setting up traps to slow or harm the enemy to make the battle get over quick and easily.





LIKES:




Sake (keeps it a secret because what village wants an drunk for a leader)

Going to bars (does this only at other villages so that her village won't see her and figure out her secret sake drinking)

Banana cream pie

Improving her skills as the Takikage

Learning whatever she can about what it means to be a true leader




DISLIKES:




People threatening the Waterfall Village

Nukenin for obvious reasons already known

Getting too drunk in front of the people of her village

Not being able to protect her village from outside threats

Not going to the river at least once a day




STRENGTHS:




Archery

Suiton, Doton, and Katon style techniques

Trap setting

Strategist

Natural born leader

Knowing the village is trusting her with their life

Diplomat




WEAKNESSES:




Going head to head in battle without a strategy

Children (always had a soft side for them)

Thought of her village getting destroyed or worst burned to the ground

Mysterious men

Dealing with arrogant people during diplomatic meetings

Afraid she can't live up to the reputation her villager has given her as leader




GOALS IN LIFE:




Find that special person to have at her side in the time to come

Having children by the time that she is in her mid to late forties

The most important goal in life protect Takigakure until her last breath




WEAPONS:


She carries a simple bow and a quiver of arrows around on her back. Uses simple ninja weapons such as kunai, shuriken, paper bombs, smoke bombs, and uses a Jōhyō or a rope Javelin.



FIGHTING STYLE:


Prefers to attack from afar using her bow and arrows or anything other ninja weapons like kunai or shuriken. She will however uses close counter attacks if she runs out of options or decides to switch it up a little bit.



CHAKRA NATURE:




Suiton

Doton

Katon [Will learn IC'ly]




TECHNIQUES:


Check the posts after this one~


PARENTS:


Michiru and Ayame Kurugi (Father and Mother)



SIBLINGS:


Kaname Kurugi - Younger sister



LOVE INTEREST:


CHILDREN:


HISTORY:




Growing up Nanami Kurugi was the kind of girl that nobody ever expected to become Takikage one day. Never taking nearly anything serious and was always complaining about not wanting to do hard work. Born into a pretty small family which she is mysteriously the only one that is able to tap into chakra. People just think it skipped her parents generation while others think her parents just don't use their chakra but known how to use it. In the end it doesn't really matter since her parents sorta force her into the life of a kunoichi. Nanami truly thought being a ninja was the most boring job in the world but she gave it a shot for her parents sake.

At the age of eight she entered the academy still with the same not giving a damn attitude. Her instructors thought she had good potential but was just scared to actually use that potential. At this time the village leader a man by the name of Shibuki. Seeking out a future leader since his health hasn't been good since he drank the hero water to protect the village. There were a few good candidates for the position but he saw something special in Nanami. Something that was laying dormant inside of her just waiting for her to actually use it.

She never knew that the leader saw something in her and was clueless that he watched her the entire time in the academy. Nanami seem to get used to the academy quickly and actually started to learn instead of resisting it. She had near perfect scores of test but during things like shuriken practice she didn't even try or anything. People would say she would never make an excellent ninja but it looked like they were wrong. At the age of twelve even with her terrible shuriken practice she graduated near the top of her class. Nanami won't lie when she said that she hated she graduated but nothing to do but push onwards.

During her time as a Genin you could see that Nanami was starting to grow up a bit and getting more interested into being a ninja. At the start it was just like every other step of her ninja career so far but during a mission that all changed. Her team was sent to the Mist Village to retrieve some important documents from the Mizukage. These documents could cause a world war if they ever felled into the wrong hands. It was going smoothly until they was on their way back and nukenin attacked. They were exiled ninja from Kirigakure that wanted to cause a world war and the destruction of the mist village. Her team was no match and it seem like it was at a end until for some reason Shibuki appeared. Taking the exiled ninja out but not before they lost their Jounin leader in the process. Seeing Shibuki in action gave her a new resolution and that was when Nanami became his pupil.

The rest of her genin years she spent most of her time training with Shibuki. It was a hard and really strained on her mentally and physically but it was time to test it out when the Chunin Exams came around. Together with her two genin team members they traveled to the Leaf Village under the command of a new Jounin. Nanami was ready to show off her skills and show everybody she isn't as bad of a kunoichi they made her out to be. The exams was intense and never has she ever worked so hard on something lime this. In the end it all paid off as she was promoted to the rank of Chunin.

Nanami returned to the Waterfall Village with a new out look on life and became more serious as a kunoichi. She continued to be trained under Shibuki for a few more years actually until he couldn't teach her no more. Her family had a new found respect for her and so did the villagers as they saw how much she has changed. It wasn't that big of a surprise when she was being considered to become a Jounin. At this time thanks to drinking the hero water all those years ago Shibuki health was getting really bad. It soon started as a rumor that the elders started to consider picking a Takikage.

During this time Nanami was sent to Konohagakure to aid their allying village. She was assigned to work with a Jounin named Ebisu on a mission that could mean the safety or destruction of the leaf. A known and vowed traitor of the village had stolen evidence that could indicate or possibly frame the Leaf for selling secrets to the enemy villages. The young woman saw this as her chance to prove herself as a valuable member of the Waterfall Village. Nanami and Ebisu tracked down lead after lead until they found their target. It was a ninja from the village only known as Shimagakure which meant he worked for Sasuke Uchiha. Never has see had to face a shinobi from a place such as that and she was looking forward to the fight. However she got a little too over her head and was nearly beaten to death by this known enemy. Never had she been pushed this far but she refused to get up and knowing it could be her death she attacked the ninja anyways. By mere luck she got in a lucky hit with her arrow and pierced the Shimagakure shinobi through the heart. Passing out only to be awaken in the Waterfall village hospital and told about what had happened. She was promoted to Jounin but Shibuki had died while she was away.

Nanami couldn't believe that her mentor was gone and in his will he stated that he wanted her to be the new village leader. She turned the position down without a thought not wanting to continue on as a ninja with Shibuki. It was him that helped her realize her true potential and without him she was nothing. Hanging up her shinobi headband she gave up the life as a ninja. It was as if she had given up and nobody could change her mind until the attacked happened. Apparently the guy named Suien which Naruto and Sasuke head killed years before had some friends wanting revenge. Knowing they can't kill Naruto or Sasuke nor can they kill Shibuki then they will burn this village to the ground.

They were on a rampage and nearly killed a few people in a matter of minutes and it seem like all hope was lost. Until Nanami witnessed that they was disgracing Shibuki and his courage that she picked up her headband and accepted her role as the Takikage. Like that mission that allowed her to be a Jounin she was easily outmatched and nearly bled to death from a serious and life threatening wound on her back. Nanami was the new leader and she would be damned if she died like this. Little did anybody know a year or two before Shibuki showed her that he had hidden a little hero water left before he fought Suien thought years ago. Without any other choice she drank the water and easily dispatched of the invaders and instead of dying she felled into a comatose state. Only awaking six months later as she assumed her role as the Takikage once again.

The Bingo book says their name is Matthew2989. I have been fighting for 19 years and taking
part on missions for Seven years.

How did you find My Pride is a Hurricane?:Nuff said~