Post by UZUMAKI NARUTO on Jun 18, 2012 12:13:30 GMT -5
Jewnikami is a crimnal organization comprised of Twelve S Class Nukekin. They are funded by a wealthy crooked man named Toratsu. The organization is modeled after the previous Akatsuki. To request a member of Jewnikami reply here and once application is reviewed final approval or denial will be given.
⌈A T T I R E⌋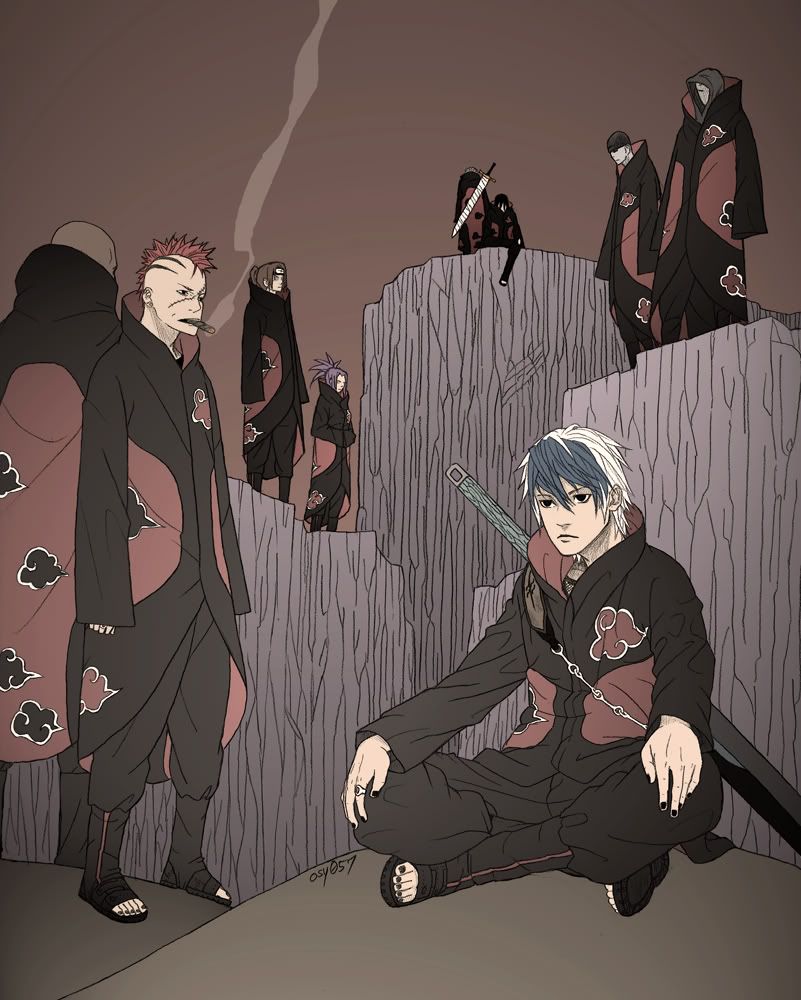 ⌈G O A L⌋

The goal of Jewnikami is similar to that of Akatsuki which is the destruction of great five villages which Zero believes is for the greater good. Jewnikami wishes to do away with clans and things such as nobility. They also plan to hunt down the Jinnchuriki and destroy them all sealing away the Tailed Beasts forever. Once this has been accomplished Jewnikami will rebuild the shinobi world in their own image at least that is what most members believe. Zero plans to continue where Obito Uchiha left off with his Infinite Tsukiyomi plan having gained the means to do so by implanting the Uchiha's MS into his own right eye.
⌈LEADER⌋
Zero Cypher
S-CLASS NUKENIN
DRAGON
25 Years Old
Zero is the leader of Jewnikami. Much of Jewnikami's actions and goals are of his design. A formidable foe he is patiently awaiting the time to make Jewnikami's presence known.
⌈Requirements⌋

A Rank Jounin
Rank B-A techniques
Nukenin
Approved Character [WIPs will be turned down until finished]
⌈MEMBERS⌋
Each Member Accepted is given a rank which is a Zodiac Animal.
TIGER -- James Saito
Rank: S-Ranked Nukenin - Formerly Kumogakure
Age: 23 Years Old
Other Info: James wants to see Kumo burn to the ground and help get rid of the five great shinbo nations.
SNAKE -- Kaguya, Jojo

Rank: Jounin of Konoha
Age: 18 Years Old
Other Info: Jojo is entering in as a double agent faithful to the Jewnikami and their leader Zero. The ridding of demons don't interest her as much as just being there to follow Zero's commands. She is his right hand.
OX -- Available
Age:
Rank:
BIRD -- Hyuuga Kamajin

26 Years Old
A-Rank
HORSE -- Available
Age:
Rank:
MONKEY -- Available
Age:
Rank:
BOAR -- Available
Age:
Rank:
RABBIT -- Sindel Akasuna
S-Rank
RAM -- Available
Age:
Rank:
RAT -- Available
Age:
Rank:
DOG -- Available
Age:
Rank:
⌈Application⌋

Just post here your character's icon, name, rank, age, zodiac rank you want, and a little short description about their goal/purpose in Jewnikami. In your actual character application title add Jewnikami so your account can be sorted into a section for Jewnikami members.

Seven slots available so first come first serve. Once accepted Zero Cypher will recruit your character in topic.


***You Cannot Join Jewnikami If You Are Already In Seven Swordsmen***
***Credit for Idea and Concept of Jewnikami goes to the Admin Akane from Naruto Enimity***